Adventure sports
Sport enthralls everyone. But when it comes to the world of adventure sports, it takes it to the extreme. The word adventure itself depicts the types of sports we are going to discuss. Adventure sports refer to those recreational activities, which are unusual, (to be exact more than unusual) exciting and involves a high degree of risks. Many of these activities can involve speed, height, high level of physical exertion, etc. You need to have specific gears for these kinds of sports and often need an instructor to guide you through the steps. To be very frank, do take up risks but not your life.
Well said that" To have some fun, takes some risks".
Although these sports often have the potential risks of serious and permanent injuries, even death. They also have the potential to produce drastic benefits on physical and mental health.
Generally, common people even do not imagine being a part of these sports but many believe in the saying that,
" Only those who risk going too far can find out how far they can go". So take your challenge and defeat it to find the joy you have never dreamed of. This post is for your keen knowledge of whether you are a business person travel make everyone calm.
Before going to participate in any of the adventure sports activities, we recommend you to take a note of the following things carefully
Free yourself from the anxiety of doing a risky adventure. It might hold your mind-set back.
You need a lot of guts for these kinds of sports, so have some faith in yourself.
You might need an instructor to guide you through in most cases.
Anyone who has heart-related disorders is not advised to perform this kind of activity.
Be comfortable in your sportswear.
Wear complete dress including required safety equipment, such as cross helmets, belts, gloves, and other accessories according to types of sports.
Always check for good weather before planning any adventure sports.
When you are almost ready to go, here are the top ten adventure sports in the world. Experience the fun and thrill …..
Base Jumping:
When we say that base jumping is illegal in some parts of the world, you can imagine how dangerous it can be?
It is much more dangerous than sky diving which needs jumping off a plane at high altitudes.
Base jumping is considered the world's most adventurous as well as dangerous sports. It is regarded as a fringe extreme sport or stunt. Since 1912, it is being practiced all over the world and many people have lost their lives to date. Base jumping is often featured in action movies. It requires a person to dive in the air from a high altitude location. Be it a mountain cliff or a high altitude tower often wearing a winged flying suit. It is strictly advised to have serious practices before making an actual jump.
The best site for base jumping is the Angel falls in Venezuela.
The autumn season provides the most favorable winds for base jumping.
Running of the bulls:
A tradition that has its origin in Spain now has taken the shape of one of the most dangerous adventure sports.
Can you even imagine running in front of a charging bull whose only intention is to gore you with his sharp horns?
If you are looking for a thrill of a lifetime, running with the bulls should be near the top of your list. The length of the run is around 840 meters and goes through the streets before entering into the bullring. This complete run takes about 4 min from start to finish. This sport can cause serious injuries and even death.
Every year dozens of peoples are injured in the running of the bulls and many have lost their lives in front of those raging bulls.
In the month of July running of the bulls takes place during the San Fermin Festival in Pamplona, Spain.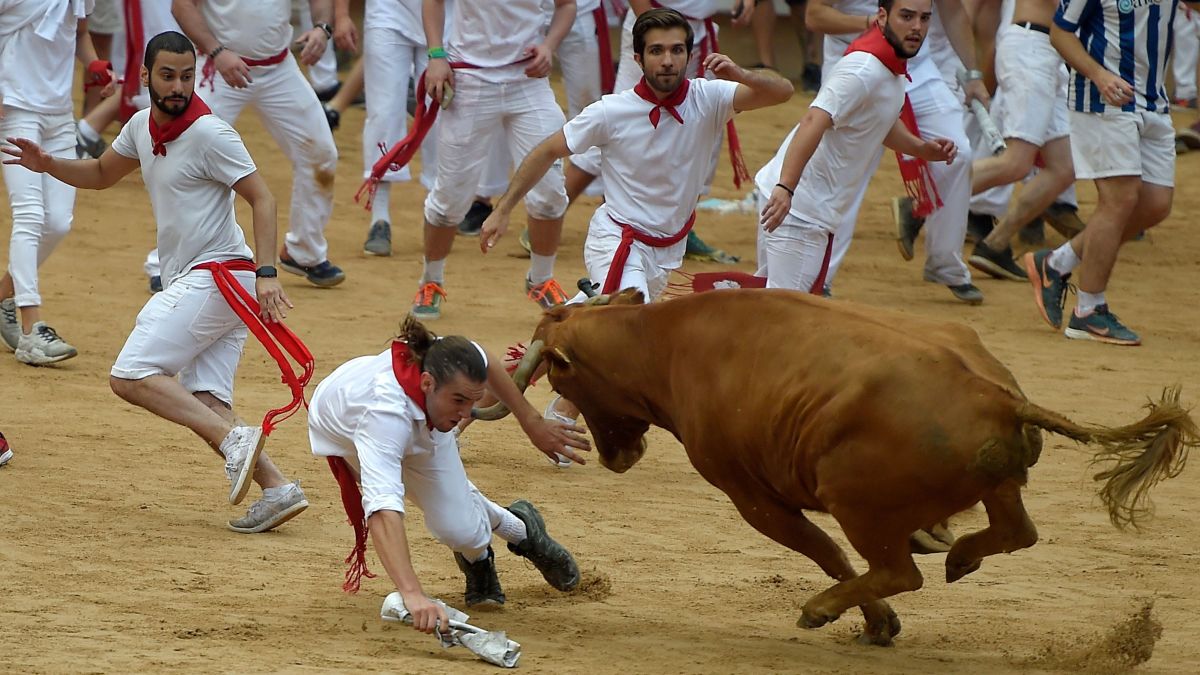 Cave Diving:
You often get excited when told about exploring a cave. But when you are told that they are underwater than you might just take a few steps back. Some peoples take pleasure in exploring them just like you and me.
If you want some serious fun underwater then get ready for cave diving.
It is underwater diving in water-filled caves. It is the most adventurous sport as it seems by its name. The underwater navigation through the cave system is very joyful as well as dangerous. Occasionally done for fun, it is also done for scientific research and exploring activities. The unexplored underwater also poses a potential threat to the divers.
Cave divers are taught to recollect the five key components with the mnemonic: "The Good Divers Always Live".
Cave diving has been perceived as one of the most deadly sports in the world.
Most likely summer season is perfect for cave diving.
The best place for cave diving is Lighthouse Reef, Belize.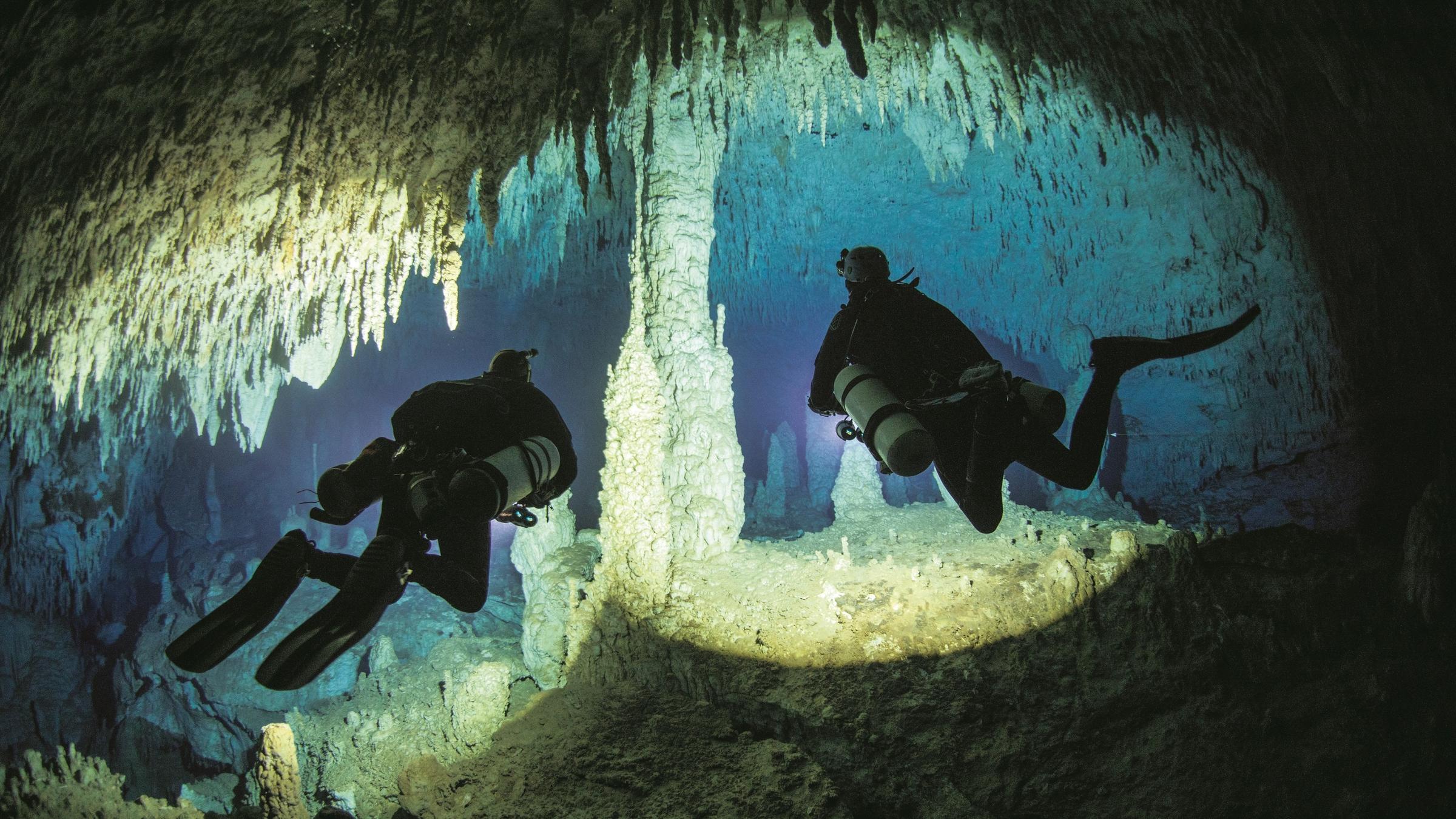 River Rafting:
Time for a team experience! River rafting gives you the opportunity of testing your teamwork capabilities. It demands certain degrees of physical fitness in you to tackle the rough waters.
Wake up, the river is calling for another interesting adventurous sport called River Rafting. If you want to navigate overflowing water bodies or different degrees of rough water then get ready for River rafting. Punching, high-sliding, and low-sliding are techniques use during any obstacles while rafting. Using proper precaution, river rafting gives an unlimited amount of joy with low risks.
River rafting has many different types. Depending on your capabilities select the appropriate one.
The favorable place for river rafting is considered to be the Grand Canyon.
Bungee Jumping:
The guys afraid of height should try it at least once in their lifetime. Sure to get the hell out of you. Never to be afraid of height again!
It is undoubtedly one of the most sought after adventure sport in the world. It involves jumping from a tall structure while connected to an outsized elastic cord. In most cases jumping from a high altitude, the bridge is performed. Also, there can be a jump from moving objects such as hot air- balloon or helicopter.
The thrill comes during the free-falling and the rebound, except monsoon, bungee jumping can be practiced in any season.
The best place for bungee jumping in New Zealand.
Sky Diving:
Want to have a bird's eye view of the ground below you, try sky diving. Free-falling from the sky until a certain height, you get do enjoy some spectacular scenes and do some maneuvers in the air.
Get ready to swim in the air because sky diving refers to the process of diving from the highest point above the earth to the earth's surface under gravity. Generally done by jumping offa plane.
Sky diving is a sport carrying a complete package of thrill, adventures, joy & entertainment, but a little carelessness can carry you near to death or even death. It is very interesting to play with the wind under a parachute.
Well said phrase is that" people who don't jump will never fly".
The best place for sky diving is in the UAE.
Scuba Diving:
Very similar to cave diving, there exist another most adventurous sports i.e. scuba diving. Scuba stands for 'self-contained underwater breathing apparatus'. Scuba diving is an underwater activity that involves using an underwater breathing device to enable the diver to breathe.
It provides a great opportunity to perform underwater photography, videography, scientific research, marine biology, oceanography, hydrology, and even archaeology underwater.
Explore the unseen blue in a never before way by scuba diving.
Some of the foremost popular diving destinations include Australia, Micronesia, Egyptian Red Sea , Hawaii, Thailand, Belize, and Palau.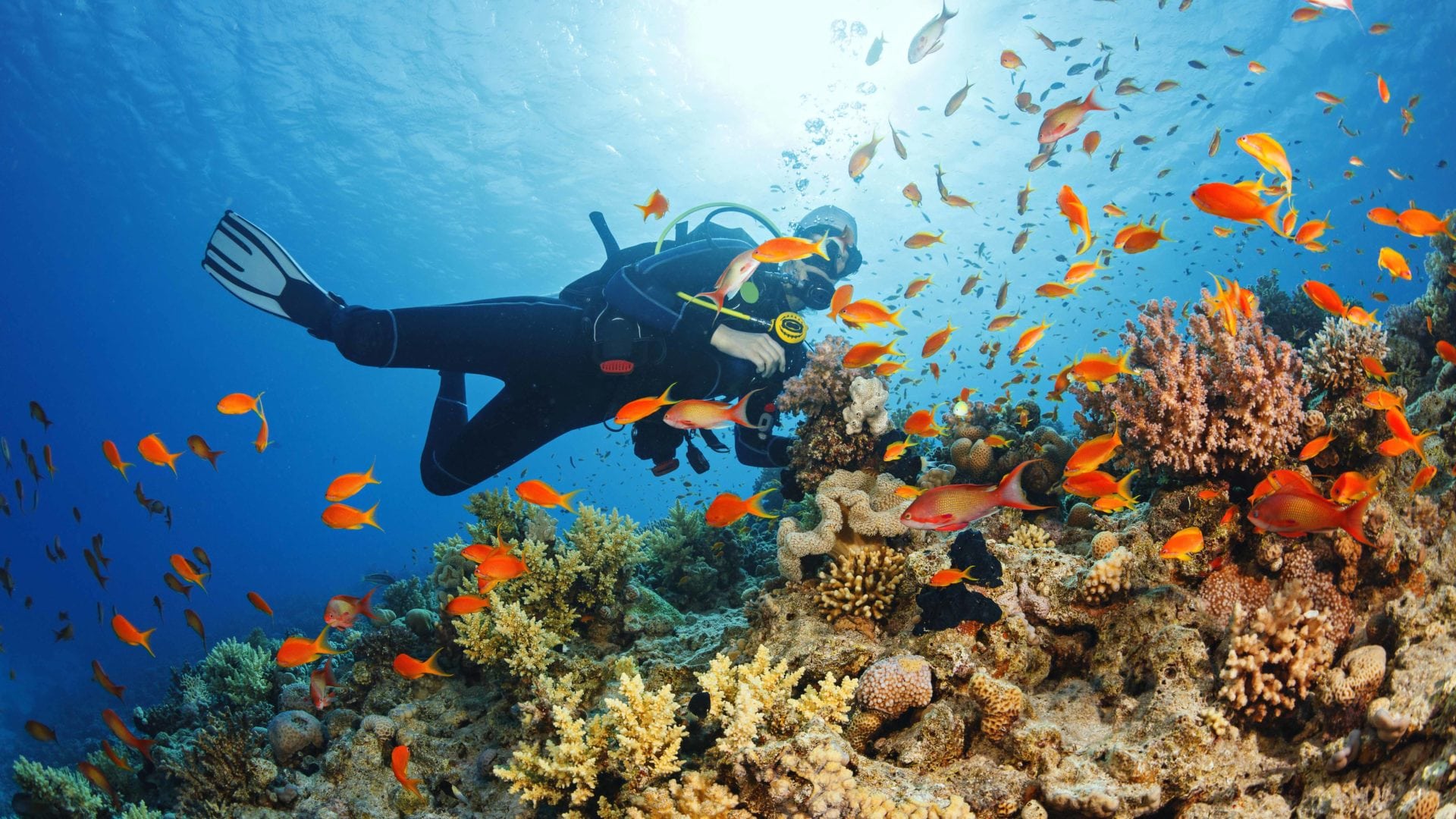 Rock Climbing:
If you want to go mountaineering, go for rock climbing. It will teach you much more than expected.
Rock climbing is a physically and mentally demanding adventurous sport. It helps test a climber's strength, endurance, agility, and balance along with mental control. It is a skillful activity where participants climb up natural rock or fake rock walls. There is more use of fingers, shoulders, elbows, and foot toes while climbing. It needs a lot of attention from you and a lot of gripping. It never gives you another chance. If you slip off then you are down. It involves a lot of risks.
'Free climbing' and 'aid climbing' are the two main types of rock climbing.
The best place for rock climbing is the USA.
Para Gliding:
One of the best adventure sports, paragliding gives you the very feeling of a free bird in the sky although Paragliders fly much higher than the birds.
Paragliding is a type of sports where a pilot flies a fabric wing. It is devoid of any type of engine. Many people think that paragliding is one among those things that only suicidal maniacs and adrenaline junkies attempt. In reality, it is one of the safest and quite interesting airborne sports.
You can go gliding for up to a hundred kilometers or take a short flight of around 10 kilometers. Whatever you do, you are sure to enjoy it a lot.
By far, Himachal Pradesh, in India is considered the best place for paragliding.
Kayaking:
A little less known than river rafting but not any less in terms of fun and risk involving is the kayaking.
Just imagine paddling on rivers, lakes, and the sea in a pretty sleek little canoe. It is something just like that.
To flow with water there exist another kind of adventurous activity called Kayaking, which involves paddling a small craft through the water. It can improve your aerobic fitness, strength, and flexibility. Kayaking is often done as a hobby, a competitive sport, or as a fun activity on holidays.
The best place for kayaking in Canada.
 Sports are meant to be fun either indulging physical or mental powers but adventure sports are far more different from it. It provides you with extreme fun and enthrallment but poses a risk to your wellbeing. Therefore do it safely and have the fun it is meant for.
Next time you plan your adventure, keep this in mind. Enjoy safe and sound.